Description
Used as a beauty mask for millennia, pure honey is an excellent antiseptic, a natural healing substance, and an antioxidant. It deeply moisturizes, nourishes and tones the skin, giving it softness and flexibility.
Particularly rich in mineral salts, vitamins (notably A, B and C), amino acids, trace elements, and in antioxidants (flavonoids), it contributes to fighting against skin aging.
Neroli (Orange Blossom) Essential Oil calms, relaxes and soothes the skin all while complementing the honey's anti-aging action.
Composition : HONEY, CITRUS AURANTIUM FLOWER OIL, LINALOOL, LIMONENE
Apply a thin layer of the honey mask on the face and neck…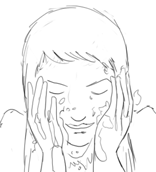 …leave on for 10 to 15 minutes before rinsing off with warm water.
Find out how to use this product in the protocols: